A common thought in real estate is never list your home in the winter offseason. Perpetuated by industry experts, agents and repeat sellers alike, this saying encourages many would-be sellers to wait until the spring peak to list their homes. However, studies show that homes listed in the winter offseason not only sell faster than those in the spring, but sellers also net more above their asking price at this time.1 Don't wait until spring to sell. If you've been thinking of selling your home, here are five compelling reasons to list now.
Take advantage of low inventory. Since most sellers are waiting until spring to list, local inventory falls during the offseason. However, there are still motivated buyers who are ready to move now and don't want to wait that long to purchase a home. According to the National Association of Realtors, 55 percent of all buyers purchased their home at the time they did because "it was just the right time."2 These eager buyers may flock to your home. You may not need to try as hard to make your home stand out in the sea of other similar homes. With less competition, more buyers, some of whom may have otherwise overlooked your home if you listed during the peak, will express an interest to buy. While you'll likely have fewer showings in the offseason, buyers who do visit will be more serious about writing an offer. Your home will likely sell faster than it would have during the peak season.
Set a higher listing price. Homes sold during the offseason sell at a higher price, on average, than those sold during the spring and summer peak. There are many reasons for this. First, motivated buyers are willing to pay closer to the asking price for a home. Second, homes are more likely to be priced right and reflect the economics of not only the local market, but the neighborhood as well. Often, homes listed during the peak may be priced to compete with other homes in the area and neighborhood. Sellers may be pressured to sell for less than the list price in order to encourage buyers to choose their home out of the others on the market.
You'll receive more attention. While our team always strives to give you the personal attention you deserve, when you list during the offseason, we're able to work more closely with you to ensure your home is prepared for its debut on the market. We can also take more time to answer your questions, address your concerns and prepare you and your home for the sale.
Additionally, if you'd like to hire a tradesperson to handle routine maintenance or undertake a minor home renovation before you list, you may be able to take advantage of flexible scheduling and cheaper rates. Many of these professionals experience a winter offseason as well, and will be able to focus their time and attention on you and your project.
Easier to maintain curb appeal. Curb appeal is intended to attract the buyers who are just driving by as well as those who saw your home online and wanted to see it in-person. It sets the stage for what interested buyers can expect when they step foot in the home during a showing or open house. If you list your home during the peak of the selling season, you may exhaust your time your energy maintaining curb appeal. You'll likely spend most of your free time mowing the lawn, weeding, trimming shrubs and hedges, planting flowers in pots and in flowerbeds, pulling spent blooms and watering it all to ensure it looks lush and healthy on a daily basis. After all, a lush landscape will attract potential buyers and set your home apart from other similar homes in the area.
The offseason eliminates the pressure to maintain a picture-perfect front landscape. Since most grass, shrubs and plants go dormant at this time of year, you'll have less to maintain. If you live in an area that experiences a traditional winter, your landscape will be covered with snow. Even if you live in a milder climate, you may not have to mow as often, if at all. It's still important to ensure your exterior appears well-tended, so make sure your walkway and front porch remains free of snow, ice and debris.
Tap into the life changes of buyers. Many buyers receive employee raises and bonuses at the end of the year. If they've been saving to buy a home, this extra money may allow them to reach their goal for a down payment and put them on the path to becoming a homeowner. Additionally, companies often hire new employees and relocate current ones during the first quarter of the year, creating a strong demand for housing. If you live in an area that's home to a large company or has a strong corporate presence, this may be the perfect time to list.
Thinking of Listing in the Offseason? 3 Things to Do Before You List
Get your home ready to list by following these tips.
Schedule maintenance. Buyers, especially first-time buyers, want a home they can move into right away; they don't want to repair the roof or the furnace or replace windows with blown thermal seals before they move in. Do the scheduled maintenance and make repairs before you list your home for sale.
In some cases, it may help to have an inspector do a pre-inspection of your home. A pre-inspection will make you aware of any major, potentially deal-killing, issues that will have to be addressed before you list. It also gives you an idea of minor issues that a potential seller may want repaired. Overall, it helps you to accurately price your home and may protect you from claims a buyer might make later.3
Create light. Balance out the lack of natural light outdoors by turning the lights on inside. Since people naturally tend to buy emotionally, turning on the lights helps create a sense of warmth and coziness. Light a fire in the fireplace, if you have one, fill your home with the scents of the season, such as vanilla or fresh baked cookies, and put a throw blanket on your sofa.
If you plan to paint the interior of your home before you list, consider an off-white shade to create consistency throughout your home and make the space feel larger and brighter. If you have photos of your garden or the home's exterior in the spring or summer, display them so interested buyers can get a glimpse of what the home looks like in other seasons..
Give your home a thorough cleaning. Cleaning puts your home in its best light. Clean and polish all the horizontal surfaces of your home, including countertops, window sills and baseboards; have the curtains dry cleaned or otherwise laundered; wash windows, glass doors and their tracks; vacuum carpeting and polish all wood surfaces, including the floor.
Additionally, this is a great time to pack any personal items and family photos as well as sort through your belongings and donate items you no longer use. This not only eliminates any clutter, but it also gives you less to pack and move when you sell.
If you're thinking of selling, give us a call! We'd love to help you position your home to sell in our market.
Sources: 1. Time, October 30, 2015
National Association of REALTORS, 2016 Profile of Home Buyers and Sellers
Forbes, August, 27, 2013
We all want to be good neighbors. But when it comes to selling your home, it's not just about "keeping up with the Joneses." It's about outshining them at every opportunity!
If you're looking to sell your home fast and for the most money possible, you'll need a strategy to set it apart from all the other listings competing for buyers in your area. That's why we've outlined our proven, five-step plan for serious sellers.
Use these five tactics to help your listing get noticed, win over buyers, and net a higher sales price than your neighbors!
STEP 1: Stage Your Home to Show Its Full Potential
The average seller will do the minimum to prepare their home for market: clean and declutter, fix anything that's broken, mow the lawn. And while those tasks are essential, today's buyers want more than just a clean house and tidy yard. When they dream of buying a new home, they envision a designer house with modern finishes. Help them see your property's full potential by staging it.
Home staging is one of the hottest trends in real estate—because it works! According to the Real Estate Staging Association, homes that are professionally staged spend 73% less time on the market.1
So what exactly is staging? In a broad sense, staging is the act of preparing your home for market. The goal is to highlight your home's strengths, minimize any deficiencies, and help buyers envision themselves living in the space. When staging a home, you might rearrange the furniture to make a room feel larger or remove heavy curtains to make it appear brighter.
Some sellers choose to hire a professional home stager, who has specialized training and experience, to maximize the appeal of their home to the largest number of potential buyers. Others may opt to do it themselves, using guidance from their agent.
We can help you determine the appropriate budget and effort required to push your home ahead of the competition in your neighborhood. The good news is, an investment in staging pays off. A 2018 survey found that 85% of staged homes sold for 6-25% more than their unstaged neighbors homes.2
STEP 2: Draw Buyers in with High-Quality Listing Photos
You only have one chance to make a first impression with potential buyers. And many buyers will view photos of a listing before they decide whether or not to visit it in person. In fact, 87% of buyers find photos "very useful" in their home search.3 Poor-quality or amateur-looking listing photos could keep buyers from ever stepping through your door.
Since good photography plays such an important role in getting your property noticed, we only work with the top local professionals to photograph our listings. But we don't just rely on their photography skills when it comes to showcasing your home.
We go the extra mile to ensure your listing photos showcase the true essence of your home. We're always on site during the photo shoot to help the photographer capture the best angles and lighting, and to let them know about unique or compelling selling features that they should photograph. The extra effort pays off in the end. In fact, listings with high-quality photography sell 32% faster than the competition … and often for more money!4
STEP 3: Price It Properly From the Start
Even in a strong real estate market, there are homes that will sit unsold for months on end. This can be the "kiss of death" in real estate, as buyers tend to imagine that there must be something wrong with the property, even if it's not the case.
But why are those houses still on the market in the first place? It's because they are often priced too high.
Every buyer has a budget. And most will be viewing listings within a particular price range. If your property is overpriced, it can't properly compete with the other houses they're viewing that are priced correctly. Which means it'll sit on the market until you're eventually forced to drop the price.
Alternatively, if you price your home aggressively, it can be among the nicest homes that buyers have seen within their budget. This can lead to emotionally-attached buyers, who are often willing to pay a premium or settle for fewer seller concessions. And in certain markets, it can lead to a multiple-offer situation, or bidding war. The end result? More money in your pocket.
We can help you determine the ideal listing price for your home in the current market. Pricing it properly in the beginning is the best way to ensure a fast and profitable sale.
STEP 4: Put on a Good Show at Each Showing
Once buyers are interested enough to schedule a visit, it's crucial that you put on a good show at each showing.
The first step is to make your home readily available—and often on short notice—for buyers to see it. A missed showing is a missed opportunity to sell your home. If you set too many restrictions on when it's available to view, busy buyers will simply skip over your listing and move on to the next one.
Part of making your home available means keeping it relatively show-ready as long as it's on the market. Most of us don't live picture-perfect lives, and our homes reflect the day-to-day reality of our busy (and sometimes messy) families. But a little extra effort spent keeping your home clean, fresh-smelling, and ready for buyers will help it sell faster … which means you can get back to your regular routine as quickly as possible!
STEP 5: Use a Proven Promotion Plan
 Most agents are still marketing their listings like they did 20 years ago  … put a sign in the yard, put the listing in the MLS, and pray that it sells. Yet, we know that 93% of buyers search for real estate listings online.3
That's why we invest in the latest training and technology—to ensure your listing appears in the places where buyers are most likely to look. Our dual-level promotion strategy includes both pre-launch activities designed to seed the marketplace and post-listing activities to ensure your home stays top-of-mind with potential buyers.
By utilizing online and social marketing platforms to connect with consumers and offline channels to connect with local real estate agents, your property gets maximum exposure to prospective buyers.

LET'S GET MOVING
Are you thinking about listing your home? Get a head start on your competition! Contact us for a copy of our Home Seller's Guide, which offers a complete guide to the home selling process. Or call us to schedule a free no-commitment consultation. We'd love to put together a custom plan to maximize the sales potential of your property!
Sources:
Real Estate Staging Association – https://www.realestatestagingassociation.com/content.aspx?page_id=22&club_id=304550&module_id=164548
Home Staging Resources –
https://www.homestagingresources.com/2018-home-staging-statistics/
National Association of Realtors –
https://www.nar.realtor/sites/default/files/documents/2018-real-estate-in-a-digital-world-12-12-2018.pdf
According to the National Association of Realtors, staging a home prior to listing it can result in a faster and more profitable sale.1 In fact, the Real Estate Staging Association estimates that professionally staged properties spend 73 percent less time on the market, receive more foot traffic, and typically sell for more money.2
Source: National Association of Realtors
Following are 10 tips you can use to get your home "show ready" prior to hitting the market. These easy and cost-effective ideas will help your house look its best—and help buyers visualize themselves living there. Even if you're not currently in the market to sell, you can use these tactics to breathe new life into your existing home decor.
To get a plan customized for your particular property, give us a call to schedule a free consultation. We'd be happy to share our insider knowledge of the buyer preferences in your neighborhood … so you'll know where to focus your time, money and energy to maximize your results.
1. REMOVE CLUTTER
Decluttering is typically the first thing we tell clients to do to prepare their home for sale. And according to the National Association of Realtors, a whopping 93 percent of agents agree.1 Decluttering is the act of removing excess "stuff" from your home to make it appear clean and spacious.
Overflowing closets and cluttered countertops can make your house feel small and cramped. In contrast, sparsely-filled closets and clear countertops will make your home appear larger and assure buyers that there will be plenty of room to store their belongings.
Don't neglect drawers, cupboards and even your refrigerator in your decluttering efforts. Serious buyers will check out every nook and cranny of your home, so pack up anything you don't use on a daily basis and store it off site. The same goes for jewelry, sensitive documents, prescription medication, firearms and other items of value. Store them in a locked safe or storage unit before opening your property to buyers.
Make sure any items that remain are clean, tidy and well organized. The good news is, when it comes time to move, a large portion of your packing will be done!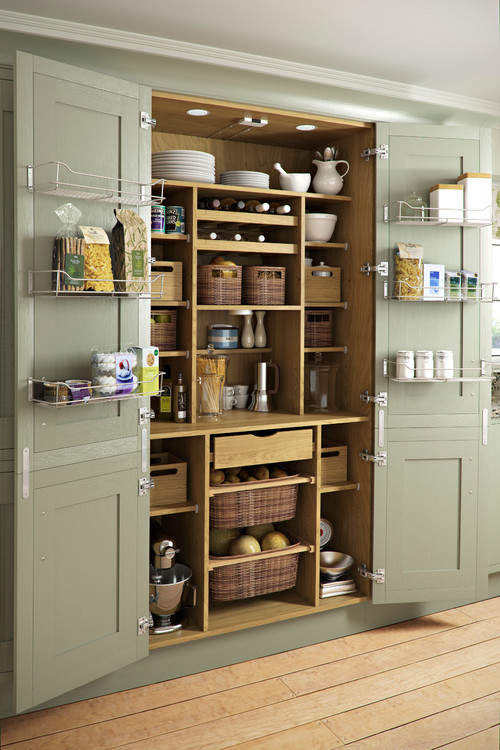 2. DEEP CLEAN AND DEODORIZE
From carpets to bathrooms to appliances, having a clean home is a MUST. If you've ever checked into a dirty hotel room, you can imagine how buyers can be turned off by a home that hasn't been thoroughly cleaned.
If you have a large home, or are short on time, you may want to invest in a professional cleaning service. And if you have carpet, we generally recommend you rent a steam cleaner or hire a company to clean your carpets for you.
In addition to cleaning, it's equally important to neutralize odors in your home that can be off-putting to buyers, especially pet smells and cigarette smoke. If the weather allows, open your windows and let in fresh air. Empty the trash frequently, and especially before a showing. Avoid cooking any strong-smelling food such as fish or heavy spices. You may need to clean (or remove) drapes and upholstery if odors are particularly strong.
Try to keep your home in clean, show-ready condition while it's on the market. You never know when a potential buyer will want to drop by for a viewing.
3. DEPERSONALIZE
Your family photos and personal mementos are often your most treasured possessions. For many of us, they are what make a house a home. However, buyers will have a hard time envisioning themselves living in a place if it feels like YOUR home.
Pack up any items that are personal to you and your family, such as photos, books, children's artwork, travel souvenirs and religious items. Collectibles and excessive knickknacks can be distracting to buyers. Instead, keep your decor items minimal and generic to appeal to the largest number of buyers.
4. NEUTRALIZE YOUR COLOR PALETTE
Along those same lines, bold color choices may not appeal to all buyers. By incorporating a neutral color palette throughout your home, buyers can better visualize the addition of their own furniture and decor, which may contrast with your current color scheme.
But don't limit yourself to white and beige. Incorporating earth tones and midtone neutrals—like mocha and "greige" (grey-beige)—can add a touch of modern sophistication to your decor.3
One of the quickest and most cost-effective ways to neutralize your home's decor is with paint. Walls painted in dark, bold or bright colors can turn off buyers. A fresh coat of paint in a neutral color like greige (try Benjamin Moore's Revere Pewter) or warm white (such as Kelly-Moore's Rotunda White) offers a clean palette upon which buyers can visualize adding their own personal touches.4
If your sofa is worn, stained or has a bold pattern, consider purchasing a neutral-colored slipcover. Dated or overly busy window coverings should be taken down or replaced. Instead, bring in tasteful pops of color with throw pillows and accessories.
5. INCREASE YOUR CURB APPEAL
You only get one chance to make a first impression. According to a 2017 report by the National Association of Realtors, 44 percent of home buyers drove by a property after viewing it online but did NOT go inside for a walkthrough.5 That means if your curb appeal is lacking, buyers may never make it through the door.
Walk around your home and look for any neglected areas that might seem like "red flags" to buyers, such as missing roof shingles or rotted siding. Trim trees and shrubs if needed, and make sure your lawn and flower beds are well maintained. Add some colorful flowers to your front beds and/or flower boxes to brighten up your landscaping.
Make sure the exterior of your home is as clean as the interior. This can often be accomplished with a simple garden hose. But if your siding, walkway, or driveway are stained or dingy, you may want to rent a pressure washer.
Thoroughly wash windows and screens, and remove and store dark solar screens if you have them. Open shutters, curtains and blinds, which will not only make your house look more inviting from the outside, it will brighten the inside.
Consider a fresh coat of paint on your front door, trim and shutters. And small, cosmetic improvements like new house numbers, a colorful wreath and a clean front doormat can have a big impact.6
6. FRESHEN KITCHENS AND BATHS
Kitchens and bathrooms will show better and appear larger if all items are cleared from the countertops, except for one or two decorative pieces.7 You should have already packed up non-essentials during your decluttering process, and the remaining items should be neatly stored in pantries and cupboards.
If your cabinets are dingy or outdated, adding a fresh coat of paint and new hardware is an easy and inexpensive way to make them modern and bright. Consider purchasing new shower curtains, bath mats and towels for the bathrooms and new dish towels for the kitchen.
Before each showing, make sure kitchens and baths are spotless and trash cans are empty and out of sight. To add a comforting aroma, try baking cookies, or in the fall, simmer some cinnamon sticks and cloves in a pot of water before you leave the house. In the spring, try a vase of fresh cut lilacs.7
7. SET THE TABLE
Buyers often imagine hosting family gatherings in their new home, and the dining room plays a large role in that vision. If your dining room chairs are stained or outdated, you may want to recover them or use slipcovers. In most cases, an imperfect table can be camouflaged with a neutral and stylish tablecloth.
Be sure the table is centered underneath the chandelier and on the area rug if you're using one. If your dining room is small, remove all other furniture and leave only four chairs.8
Dress up the table using nice tableware and cloth napkins or a table runner and centerpiece. For a long table, try lining up a series of small vessels down the middle.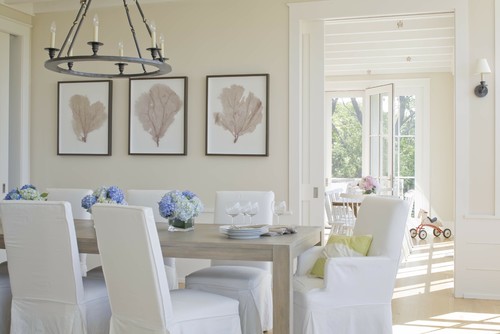 8. REARRANGE FURNITURE
Start in your living room and think about what you want to emphasize (and de-emphasize) about the space. For example, do you have a beautiful fireplace or a stunning view? If so, arrange the furniture with that focal point in mind. Use a symmetrical seating arrangement to create a cozy conversation area adjacent to the focal point.
If the room is small, consider removing some of the furniture to make it feel larger, especially oversized pieces. That includes oversized television sets, unless it's a designated media room. Pulling furniture away from the wall can make the room feel more spacious, and placing your largest furniture piece in the far-left corner (as opposed to near the entry) can create the illusion of a larger space.9
For small bedrooms, remove all the furniture except the bed, bedside tables and a dresser. If it's a large room, add one or two chairs and a table to create a seating area. Place lamps on the bedside tables and seating area if you have one.10
Make sure each space in your home has a clearly defined purpose. For example, if you've been using an extra bedroom as a catch-all storage space, stage it as a guest room or office instead. Turn an awkward alcove into a workstation or a reading corner. Help buyers imagine how they could use the space themselves.3
9. LIGHTEN UP
Lighting can have a drastic impact on the look and feel of a home. Few buyers seek out a dark house; most prefer one that's light and bright. Make sure windows are clean, and open curtains and blinds to let in the maximum amount of daylight.
Each room should have three types of lighting: ambient (general or overhead), task (such as a reading lamp or under-cabinet light), and accent (such as a floor or table lamp). Aim for a goal of 100 total watts per 50 square feet.11 If your mounted light fixtures are dated, replacing them with something more modern is an easy and inexpensive upgrade that can have a big impact.
Strategically placed landscape lighting can add a dramatic effect to your home's exterior. Welcome evening visitors with a lighted walkway, or use a spotlight to accentuate trees or other landscaping features. Solar lights require no wiring; simply place them in a sunny spot and they will turn on automatically at dusk.
10. HIGHLIGHT YOUR BACKYARD'S BEST FEATURES
While your home's interior often takes center stage, don't forget about staging your home's outdoor areas to help buyers imagine how they could utilize the space.
Even a small patio can become a selling feature with the addition of a cafe table and chairs. Add a tray of plates and coffee cups to help buyers envision a peaceful breakfast on the back porch. Place chairs and wine glasses around an outdoor firepit or hang a hammock with a book in your favorite shady spot.3 These small, simple additions can help buyers visualize the possibilities your backyard has to offer.
BEFORE YOU GET STARTED
If you're in the market to sell your home, this list provides a great starting point for your preparations. But nothing beats the trained eye and expertise of a real estate agent. Before you do any work, we recommend consulting a professional for advice about your particular property.
We offer free, no-commitment seller consultations and will walk through your home with you to help you assess which projects and upgrades are worth your time and money, and which ones you can skip.
As local market experts, we are intimately familiar with buyer preferences in your area. We'll run a comparative market analysis to find out how your home compares to others currently on the market, as well as those that have recently sold. Then we'll tailor a custom plan to suit your particular property, budget and needs.
Please call or email us today with questions or to schedule a free consultation!
Sources:
Homeownership offers many advantages over renting, including a stable living environment, predictable monthly payments, and the freedom to make modifications. Neighborhoods with high rates of homeownership have less crime and more civic engagement. Additionally, studies show that homeowners are happier and healthier than renters, and their children do better in school.1
But one of the biggest perks of homeownership is the opportunity to build wealth over time. Researchers at the Urban Institute found that homeownership is financially beneficial for most families,2 and a recent study showed that the median net worth of homeowners can be up to 80 times greater than that of renters in some areas.3
So how does purchasing a home help you build wealth? And what steps should you take to maximize the potential of your investment? Find out how to harness the power of home equity for a secure financial future.
WHAT IS HOME EQUITY?
Home equity is the difference between what your home is worth and the amount you owe on your mortgage. So, for example, if your home would currently sell for $250,000, and the remaining balance on your mortgage is $200,000, then you have $50,000 in home equity.
$250,000 (Home's Market Value)
– $200,000 (Mortgage Balance)
______________________________
$50,000 (Home Equity)
The equity in your home is considered a non-liquid asset. It's your money; but rather than sitting in a bank account, it's providing you with a place to live. And when you factor in the potential of appreciation, an investment in real estate will likely offer a better return than any savings account available today.
HOW DOES HOME EQUITY BUILD WEALTH?
A mortgage payment is a type of "forced savings" for home buyers. When you make a mortgage payment each month, a portion of the money goes towards interest on your loan, and the remaining part goes towards paying off your principal, or loan balance. That means the amount of money you owe the bank is reduced every month. As your loan balance goes down, your home equity goes up.
Additionally, unlike other assets that you borrow money to purchase, the value of your home generally increases, or appreciates, over time. For example, when you pay off your car loan after five or seven years, you will own it outright. But if you try to sell it, the car will be worth much less than when you bought it. However, when you purchase a home, its value typically rises over time. So when you sell it, not only will you have grown your equity through your monthly mortgage payments, but in most cases, your home's market value will be higher than what you originally paid. And even if you only put down 10% at the time of purchase—or pay off just a small portion of your mortgage—you get to keep 100% of the property's appreciated value. That's the wealth-building power of real estate.
WHAT CAN I DO TO GROW MY HOME'S EQUITY FASTER?
Now that you understand the benefits of building equity, you may wonder how you can speed up your rate of growth. There are two basic ways to increase the equity in your home:
We shared earlier that your home's equity goes up as your mortgage balance goes down. So paying down your mortgage is one way to increase the equity in your home.
Some homeowners do this by adding a little extra to their payment each month, making one additional mortgage payment per year, or making a lump-sum payment when extra money becomes available—like an annual bonus, gift, or inheritance.
Before making any extra payments, however, be sure to check with your mortgage lender about the specific terms of your loan. Some mortgages have prepayment penalties. And it's important to ensure that if you do make additional payments, the money will be applied to your loan principal.
Another option to pay off your mortgage faster is to decrease your amortization period. For example, if you can afford the larger monthly payments, you might consider refinancing from a 30-year or 25-year mortgage to a 15-year mortgage. Not only will you grow your home equity faster, but you could also save a bundle in interest over the life of your loan.
Raise your home's market value.
Boosting the market value of your property is another way to grow your home equity. While many factors that contribute to your property's appreciation are out of your control (e.g. demographic trends or the strength of the economy) there are things you can do to increase what it's worth.
For example, many homeowners enjoy do-it-yourself projects that can add value at a relatively low cost. Others choose to invest in larger, strategic upgrades. Keep in mind, you won't necessarily get back every dollar you invest in your home. In fact, according to Remodeling Magazine's latest Cost vs. Value Report, the remodeling project with the highest return on investment is a garage door replacement, which costs about $3600 and is expected to recoup 97.5% at resale. In contrast, an upscale kitchen remodel—which can cost around $130,000—averages less than a 60% return on investment.4
Of course, keeping up with routine maintenance is the most important thing you can do to protect your property's value. Neglecting to maintain your home's structure and systems could have a negative impact on its value—therefore reducing your home equity. So be sure to stay on top of recommended maintenance and repairs.
HOW DO I ACCESS MY HOME EQUITY IF I NEED IT?
When you put your money into a checking or savings account, it's easy to make a withdrawal when needed. However, tapping into your home equity is a little more complicated.
The primary way homeowners access their equity is by selling their home. Many sellers will use their equity as a downpayment on a new home. Or some homeowners may choose to downsize and use the equity to supplement their income or retirement savings.
But what if you want to access the equity in your home while you're still living in it? Maybe you want to finance a home renovation, consolidate debt, or pay for college. To do that, you will need to take out a loan using your home equity as collateral.
There are several ways to borrow against your home equity, depending on your needs and qualifications:5
Second Mortgage – A second mortgage, also known as a home equity loan, is structured similar to a primary mortgage. You borrow a lump-sum amount, which you are responsible for paying back—with interest—over a set period of time. Most second mortgages have a fixed interest rate and provide the borrower with a predictable monthly payment. Keep in mind, if you take out a home equity loan, you will be making monthly payments on both your primary and secondary mortgages, so budget accordingly.
Cash-Out Refinance – With a cash-out refinance, you refinance your primary mortgage for a higher amount than you currently owe. Then you pay off your original mortgage and keep the difference as cash. This option may be preferable to a second mortgage if you have a high interest rate on your current mortgage or prefer to make just one payment per month.
Home Equity Line of Credit (HELOC) – A home equity line of credit, or HELOC, is a revolving line of credit, similar to a credit card. It allows you to draw out money as you need it instead of taking out a lump sum all at once. A HELOC may come with a checkbook or debit card to enable easy access to funds. You will only need to make payments on the amount of money that has been drawn. Similar to a credit card, the interest rate on a HELOC is variable, so your payment each month could change depending on how much you borrow and how interest rates fluctuate.
Reverse Mortgage – A reverse mortgage enables qualifying seniors to borrow against the equity in their home to supplement their retirement funds. In most cases, the loan (plus interest) doesn't need to be repaid until the homeowners sell, move, or are deceased.6
Tapping into your home equity may be a good option for some homeowners, but it's important to do your research first. In some cases, another type of loan or financing method may offer a lower interest rate or better terms to fit your needs. And it's important to remember that defaulting on a home equity loan could result in foreclosure. Ask us for a referral to a lender or financial adviser to find out if a home equity loan is right for you.
WE'RE HERE TO HELP YOU
Wherever you are in the equity-growing process, we can help. We work with buyers to find the perfect home to begin their wealth-building journey. We also offer free assistance to existing homeowners who want to know their home's current market value to refinance or secure a home equity loan. And when you're ready to sell, we can help you get top dollar to maximize your equity stake. Contact us today to schedule a complimentary consultation!
The above references an opinion and is for informational purposes only. It is not intended to be financial advice. Consult a financial professional for advice regarding your individual needs.
Sources:
It's easy to look up how much money you have in your savings account or the real-time value of your stock investments. But determining the dollar value of a home is trickier.
As a seller, knowing your home's worth helps you price it correctly when you put it up for sale. If you price it too high, it may sit on the market. But price it too low and you may be losing out on a good chunk of money (nobody wants that!). For buyers, it's important to know a home's worth before you make an offer. You want your offer to be competitive, but you don't want to overpay for the property.
Even if you're not a buyer or seller right now, as a current homeowner you might just be curious about the value of your home. Keeping track of your home's worth year over year helps you understand the trends in your market. So when you are ready to sell, you can take advantage of a good window of opportunity.
The good news is, a trained real estate agent—who understands the nuances of your particular neighborhood—can determine the true market value of your property … and at no cost to you!
THE THREE TYPES OF HOME VALUES
When you start the process of buying or selling a home, you'll frequently hear the words appraised value, assessed value, and true market value. It's important to know the difference between each one so you can make better, informed decisions.
Appraised Value
A professional appraiser is in charge of determining the appraised value of a home. These appraisals are typically required by a lender when a buyer is financing the property. And while the lender is the one requiring this information, the appraiser does not work for the lender.1 Your appraiser should be an objective, licensed professional who doesn't have allegiance to the buyer, seller, or lender—no matter who is paying their fee.
The number the appraiser comes up with (the appraised value) assures the lender that the buyer is not overpaying for the property. For example, imagine a seller lists a home for $400,000. They reach a deal with the buyer to sell the home for $375,000. However, if an appraiser evaluates the property and determines that the appraised value is actually $325,000, then the lender will not lend for an amount higher than that appraised value of $325,000.2
When figuring out this number, an appraiser will compare the property to similar homes in your neighborhood, and they'll evaluate factors such as location, square footage, appliances, upgrades, improvements, and the interior and exterior of the home.
Assessed Value
The assessed value of a home is determined by your local municipal property assessor. This value matters when your county calculates property taxes each year. The lower your assessed value, the less property tax you'll pay.3
To come up with this value, your assessor will evaluate what comparable homes in the neighborhood have sold for, the size of your home, age, overall condition, and any improvements or upgrades that have been made. However, most assessors don't have full access to your home, so their information is limited.
Assessments are done annually to determine how much property tax you owe. Many counties use a multiplier (typically between 60%-80%) to calculate the final assessed value. So, if the assessor determines that the value of the home is $300,000, but the county uses a 70% multiplier, the assessed value of the home would be $210,000 for tax purposes.4
If your assessed value isn't as high as you envisioned, don't sweat it. Many homeowners appeal their assessment in favor of a lower valuation so that they can save money on property taxes. If you're interested in appealing your property tax assessment, let us know. We offer complimentary assistance and would be happy to help you build your case.
True Market Value
True market value is established by your real estate agent. It basically refers to the value that a buyer is willing to pay for the property. A good real estate agent is an expert in determining true market value because they have hands-on experience buying and selling properties. They understand the mindsets of buyers in your market and know what they'll pay for a desirable house, townhouse, or condo.
As a seller, knowing your true market value is important because it helps you choose how much to list your property for. It can also help you decide if you want to make any improvements to your home before putting it on the market. Your agent can help you figure out which updates and upgrades will have the biggest impact on your true market value.
WHAT'S THE DEAL WITH ONLINE CALCULATORS?
When figuring out your home's value, you might be tempted to see what popular real estate sites like Zillow, Redfin, and Trulia have to say. When you use an online calculator to determine your home's value on these sites, it is just an estimate. It's not an actual appraisal or the "true market value." These sites all have their own algorithms for coming up with their estimates. For example, Zillow comes up with their "Zestimates" by calculating "public and user-submitted data, taking into account special features, location, and market conditions." 5
These online estimates can be a great starting point for opening up the conversation with your real estate agent about your home's worth. But even Zillow recommends that you use a real estate agent for coming up with the actual market value of your home. The site says that once you get your "Zestimate," you should still get "a comparative market analysis from a real estate agent."
Having an agent involved in this process is essential because they understand the market better than a computer ever could. They're showing property in your city every single day, and they know the particular preferences of buyers and sellers in the area. Young professionals, large families, empty nesters, and other groups are all looking for different things in a home. A local agent has most likely worked with all of them, so they understand what every segment in your market is specifically looking for.
HOW AN AGENT FINDS YOUR HOME'S TRUE MARKET VALUE
So, how does an actual real estate agent determine true market value? They'll start by doing a comparative market analysis (CMA). This means they'll compare your home's features to similar properties in your area. For the CMA, the agent looks at the below factors to influence their assessment of your home's worth:6
Neighborhood sales – Your agent will look at similar, recently sold homes in your neighborhood to see what they sold for and what they have in common with your house.
The exterior – What does your home look like from the outside? Your agent will factor in curb appeal, the style of the house, the front and backyard, and anything else that impacts how the house looks to everyone walking and driving by.
The interior – This is everything inside the walls of the house. Square footage, number of bedrooms and bathrooms, appliances, and more all influence the overall market value.
Age of the home – Whether you have a newer or older home affects the number your agent comes up with as part of their assessment.
Style of the home – The style of your home is important because buyers in different markets have different tastes. If buyers prefer ranch-style homes and you have one, then your home may sell for a premium (aka more money!).
Market trends – Because a local agent has so much experience in your market, they have their finger on the pulse of your area's trends and know what buyers are willing to pay for a property like yours.
Location, location, location – This one's probably the most obvious. Your agent will think about how popular the area is, how safe it is, and what schools are like.
A computer algorithm simply can't take all of these factors into account when calculating the value of your home. The reality is, nothing beats the accuracy of a real estate agent or professional appraiser when it comes to determining a home's true market value.
YOUR AGENT IS THERE EVERY STEP OF THE WAY
Determining a home's true market value is a real estate agent's forte. If you're a seller, your agent will help you find your home's market value so you can list it at the right price.
For buyers, your agent will help you determine the value so you can come up with a fair offer. Your agent can also set up a personalized home search on the Multiple Listing Service (MLS) for you so you'll receive emails of listings that meet your criteria. This will help you see what's out there in your city and how properties are being priced.
Get a Complimentary Report With Your Home's True Market Value
Curious about your home's true market value? Call us to request a free, no-obligation Comparative Market Analysis to find out exactly how much your home is worth!
Sources:
Chicago Tribune –
https://www.chicagotribune.com/suburbs/chi-ugc-article-what-is-the-difference-between-market-value-a-2013-09-30-story.html
SFGATE –
https://homeguides.sfgate.com/market-value-vs-appraised-value-1206.html
ValuePenguin –
https://www.valuepenguin.com/mortgages/what-is-the-assessed-value-of-a-house
Movoto –
https://www.movoto.com/blog/homeownership/assessed-value-vs-market-value/
Zillow –
https://www.zillow.com/how-much-is-my-home-worth/
com –
https://www.realtor.com/advice/sell/assessed-value-vs-market-value-difference/
There's a lot to consider when selling your home, from the market and appraisals to where you'll go next. Don't forget, however, that design is also a key factor. It's often one of the first things buyers notice when they walk into a home, and it's also a detail that you, as a seller, can easily control.According to Realtor.com's 2022 housing market forecast, home for-sale inventory will increase from last year, as will the projected number of overall sales.1 This means, if you're looking to sell in the near future, now is the time to consider how you can stand out.
Updating your home design is one way to do that. Changes like new security features or upgraded siding can add value to your home now and be highlighted when you market it for sale later. To get the most out of your updates, focus on these popular home design features that will wow buyers in 2022.
Keep in mind, not all of these will work well in every house. If you plan to buy, list, or renovate a property, give us a call. We can help you realize your vision and maximize the impact of your investment.
Eco-Friendly Fixtures
Millennials account for the largest share of current homebuyers, according to the National Association of Realtors.2 Sustainable living tops the list of priorities for this generation. A recent Deloitte survey found that nearly one-third of millennials initiate or deepen their consumer investment in products or services that help the environment—this also includes the houses they choose to live in.3
Here are a few eco-friendly design features that will be attractive to these millennial buyers in 2022. Bonus, they can net a significant return on investment (ROI) for you, as a seller, too.
Energy-Efficient Windows: Heat gain or loss from low-performance windows drives 25–30 percent of home heating and cooling costs, according to gov.4 Therefore, energy-efficient windows can help homeowners save money.
Low-Flow Water Fixtures: According to the EPA, replacing your shower head with one that's labeled with WaterSense can save four gallons of water with each shower.5 Doing the same with your faucet can save 700 gallons per year. This leads to cost savings and environmental support.
Native Landscaping: According to the American Society of Landscape Architects, 58 percent of members report increased client demand for native trees and plants as a means to combat biodiversity loss from climate change..6 Enhance the eco-friendly appeal of your home with some native plants in the front yard.
Wellness Retreat Nooks
The pandemic has had a significant impact on mental health. For example, in an effort to prioritize mental health, many people are relocating to quieter, more peaceful homes, with 22 percent of city dwellers planning a move to less congested residential areas, according to the Home Improvement Research Institute's (HIRI) 2021 Insights Summit.7
However, no matter where you live, you can still intrigue buyers by jumping on this trend. At-home wellness amenities, which were once viewed as luxuries, are now on many homeowners' must-have lists. Indoor spaces that function as a retreat for wellness and self-care have become extremely popular, according to HIRI.
Improve your quality of life in your home with reading nooks, spa-inspired bathrooms, and exercise or meditation spaces. Even if your house doesn't have the square footage to section off an entire room for relaxation, making simple tweaks to natural light, air purifiers, and indoor plants can help you feel better in your home now while enabling future buyers to see the opportunity for their own space.
Calming Paint Colors
Paint colors that produce a calming atmosphere will also be a key selling point in 2022. Soft earth tones and natural hues will prevail this year, including various shades of blue, green,  brown, and beige. Recent research suggests steering clear of trendy paint colors in favor of a more classic palette to bring the feel of nature indoors in a subtle and soothing way.8
In fact, the same research found that buyers are often willing to pay an extra $4,698 for a house with a light blue bathroom or an extra $1,491 for a house with a dark blue bedroom. Another crowd-pleasing hue to refresh the walls with is BEHR's 2022 paint color of the year, known as Breezeway.9
This shade of green with silver undertones was created to mimic sea glass. As the BEHR website describes it, Breezeway "evokes feelings of coolness and peace, while representing a desire to move forward and discover newfound passions."
Home Safety Features
Buyers want peace of mind more now than ever before. According to a 2021 survey from the American Institute of Architects, members report seeing an increase in the popularity of these home safety features10:
Emergency backup power generation
Accommodations for multiple generations
Wider accessible doorways and hallways
Home security monitoring equipment
Interior ramps and home elevator features
Consider how you can build home safety features like these into the design of your home to enhance your quality of life now and attract more buyers later. For example, you could install a backup generator in the garage and sell it with the house or update your major doorways to be wider.
Before making an investment in expensive home safety upgrades, contact us. We can help you determine what will deliver the greatest ROI for your location and goals.
Designated Work Spaces
It may come as no surprise that after the pandemic, 63 percent of homebuyers want their next house to feature room for a designated office, according to the National Association of Home Builders.11 In addition, 70 percent of these buyers want the office to be at least 100 square feet (or a 10×10 room).
If you can, consider turning a bedroom or a den into a work-from-home office. When designing the space, make it both functional and aesthetically pleasing. Position a desk near the window for natural light, install a bookshelf unit, arrange a few succulents on the work surface, and hang a few framed posters or a cork bulletin board on the wall. You want the space to foster productivity as well as be a place in your home you enjoy spending time.
When you get ready to sell, we can help you highlight your designated work space. Given the high demand for this design feature, it can help you interest more buyers and attract more competitive offers—if marketed creatively.
Luxury Kitchen Retouches
The kitchen has always been a main focal point of interior design, and that's no different in 2022. Families will always need this space to come together in their own homes.
This year's buyers want a kitchen with new upgrades and retouches, but you don't have to renovate the entire kitchen to make an impact. If you're not sure where to start, here are a few tips on how to create a kitchen that buyers will love without spending too much money on renovations:
Repaint the kitchen, keeping the calm and nature-inspired colors in mind that are most popular right now. Taking a kitchen from dark to light by painting cabinets and walls can make all the difference.
Update the hardware. These kitchen "accessories" stand out and add personality to an otherwise standard kitchen.
Update light fixtures to bring in more light while also adding a fresh look and feel to the space.
Unique Accent Walls
In a recent interview with the National Association of Realtors, Brian Santos, the director of education for Fresh Coat Painters, explains that bold, unique accent walls are trendy right now.12 An accent wall gives a home character while maintaining the calming feel of natural- and neutral-colored walls.
Santos also explains that this is part of a design aesthetic that draws inspiration from the Roaring Twenties, and it's likely to remain a sought-after home feature in 2022. Here are some bold colors to consider for your home's accent walls:
Solid black
Jewel or metallic tones
Textured wallpaper
Painted ceilings
Built-in shelves
If you're planning to sell in the next year, talk to us before adding an accent wall. Depending on your target buyer, it may be a design feature that actually hurts your home's value. We can run a free Comparative Market Analysis on your home to help you understand what would resell best in your neighborhood.
Exterior Siding Update
A new exterior siding refresh is one of the most affordable renovation projects you can do to help increase a home's resale value. The average cost is just $12 per square foot, but higher-end material options can push costs closer to  $50 per square foot.13 What's more, there are many siding materials available, from fiber-cement, brick, and wood to vinyl, metal, and stone.
While all these options can infuse the exterior with character and add curb appeal, fiber-cement and vinyl deliver the highest ROI. In fact, according to a 2021 Cost vs. Value Report, a vinyl siding replacement can boost resale value by $11,315 (68.3 percent cost recoup), and a fiber-cement siding replacement can boost resale value by $13,618 (69.4 percent cost recoup).14
Give your home this simple, affordable, and attractive facelift before putting it on the market. If you're not sure how to get started yourself, our team can connect you with a trusted vendor to guide you through the process.
Keep These Home Design Features on Your Radar in 2022
 These design features can infuse personality into your home while helping to close the deal if you plan to sell in 2022. The average buyer knows just what they're looking for in a space they plan to call home, so with some investment and foresight, you can give your house an edge over the competition—and boost resale value in the process.
However, you don't need to make all these changes to attract more buyers. We can help you determine which design features you should add to your home by sharing insights and tips on how to maximize the return on your investment. We can also run a Comparative Market Analysis on your home to find out how it compares to others in the area, which will help us decide what changes need to be made. Contact us to schedule a free consultation!
Sources:
Last year was one for the real estate history books. The pandemic helped usher in a buying frenzy that caused home prices to soar nationwide by a record 19.9% between August 2020 and August 2021.1
However, there were signs in the fourth quarter that the red-hot housing market was beginning to simmer down. In the month of October, only 60.3% of sales involved a bidding war—down from a high of 74.5% in April.2 While this trend could be attributed to seasonality, it could also be a signal that the real estate run-up may have passed its peak.
So what's ahead for the U.S. housing market in 2022? Here's where industry experts predict the market is headed in the coming year.
MORTGAGE RATES WILL CREEP UP
Most economists expect to see mortgage rates gradually rise this year after hitting record lows in late 2020 and early 2021.3
Freddie Mac forecasts the 30-year fixed-rate mortgage will average 3.5% in 2022, up from around 3% in 2021.4
The Mortgage Bankers Association predicts that rates will tick up to 4% by the end of the year. "Mortgage lenders and borrowers should expect rising mortgage rates over the next year, as stronger economic growth pushes Treasury yields higher," said Mike Fratantoni, chief economist for the Mortgage Bankers Association at their 2001 Annual Convention & Expo in October.5
However, it's important to keep in mind that even a 4% mortgage rate is low when compared to historical standards. According to industry trade blog The Mortgage Reports, "Between 1971 and December 2020, 30-year mortgage rates averaged 7.89%."6
What does it mean for you? Low mortgage rates can reduce your monthly payment and make homeownership more affordable. Fortunately, there's still time to lock in a historically-low rate. Whether you're hoping to purchase a new home or refinance an existing mortgage, act soon before rates go up any further. We'd be happy to connect you with a trusted lending professional in our network.
THE MARKET WILL BECOME MORE BALANCED
 In 2021, we experienced one of the most competitive real estate markets ever. Fears about the virus and a shift to remote work triggered a huge uptick in demand. At the same time, many existing homeowners delayed their plans to sell, and supply and labor shortages hindered new construction.
This led to an extreme market imbalance that benefitted sellers and frustrated buyers. According to George Ratiu, director of economic research at Realtor.com, "Prices and sellers reached for the moon [last] year. It looks like we are now about to move back to earth."7
Data from Realtor.com released in November showed that listing price reductions had more than doubled since February 2021. And the average days on market (an indicator of how long it takes a home to sell) has been slowly creeping up since June.7
What's causing this change in market dynamics? The real estate market typically slows down in the fall and winter. But economists also suspect a fundamental shift in supply and demand.
At the National Association of Realtors' annual conference last November, the group's chief economist, Lawrence Yun, told attendees that he expects increased supply to come from an uptick in new construction—which is already underway—and an end to the mortgage forbearance program. "With more housing inventory to hit the market, the intense multiple offers will start to ease," he said.8
Demand is also predicted to wane slightly in the coming year. Rising mortgage rates and record-high prices have made homeownership unaffordable for a growing number of Americans. And in a recent Reuters poll, nearly 80% of property analysts said they expect housing affordability to worsen over the next several years.9
What does it mean for you? If you struggled to buy a home last year, there may be some relief on the horizon. Increased supply and softening demand could make it easier to finally secure the home of your dreams. If you're a seller, it's still a great time to cash out your big equity gains! And with more inventory on the market, you'll have an easier time finding your next home. Reach out for a free consultation so we can discuss your specific needs and goals.
HOME PRICES LIKELY TO KEEP CLIMBING, BUT AT A SLOWER PACE
Nationally, home prices rose an estimated 16.8% in 2021.8 But the average rate of appreciation is expected to slow down in 2022.
Danielle Hale, chief economist at Realtor.com, told Yahoo! News, "Home asking prices have decelerated in the second half of 2021, with median listing price growth slipping from a peak of 17.2% in April to just 8.6% in October."10
But experts disagree about how much more property values can continue to climb this year. Goldman Sachs predicts that home prices will rise by 13.5%, while Fannie Mae and Freddie Mac are forecasting a 7.9% and 7% rate of appreciation, respectively.2
However, not all analysts are as bullish. The National Association of Realtors predicts a 2.8% rate of appreciation for existing homes and 4.4% for new homes, while the Mortgage Bankers Association expects the average home price to decrease by 2.5% by the end of the year.10,2
According to Hale, "With prices near all-time highs and mortgage rates expected to rise, we expect this slowdown in prices to continue."10
What does it mean for you? If you're a buyer who has been waiting on the sidelines for home prices to drop, you may be out of luck. Even if home prices dip slightly (and most economists expect them to rise) any savings are likely to be offset by higher mortgage rates. The good news is that decreased competition means more choice and less likelihood of a bidding war. We can help you get the most for your money in today's market.
RENTS WILL CONTINUE TO RISE
Along with home, gasoline, and used vehicle prices, rent prices rose dramatically last year. According to CoreLogic, in September, rents for single-family homes were up 10.2% nationally year over year.11 And economists at Realtor.com expect them to climb another 7.1% in 2022.12
"Homes are expensive now…but for most people, the comparison that is most important is how that cost of homeownership is going to compare to the cost of renting," Zillow Senior Economist Jeff Tucker told CNBC in November.13
Tucker also pointed out that rent is less predictable than a mortgage—and more likely to go up along with inflation.13
Real assets, like real estate, are often used as a hedge against inflation. That's because property values typically rise with inflation.14 And when a homeowner takes out a mortgage, they lock in a set housing payment for the next 30 years.
In contrast, renters are at the mercy of the market—and they don't gain any of the benefits of homeownership, like tax deductions, equity, or appreciation.
George Ratiu of Realtor.com told CNBC that he advises buyers to consider their budget and time frame. If they plan to stay in the home for at least three to five years, he believes it often makes sense to buy.13
Fortunately, it's shaping up to be a better year for buyers. "I think 2022 has the promise of providing less competition, a lot more homes to choose from, and, as a result, a lot more approachable prices," Ratiu said.13
What does it mean for you? Both property and rent prices are expected to continue rising. But when you purchase a home with a fixed-rate mortgage, you can rest assured knowing that your monthly mortgage payment will never go up. Whether you're a first-time homebuyer or a real estate investor, we can help you make the most of today's real estate market.
WE'RE HERE TO GUIDE YOU
While national real estate numbers and predictions can provide a "big picture" outlook for the year, real estate is local. And as local market experts, we can guide you through the ins and outs of our market and the local issues that are likely to drive home values in your particular neighborhood.
If you're considering buying or selling a home in 2022, contact us now to schedule a free consultation. We'll work with you to develop an action plan to meet your real estate goals this year.
Sources: